Lanie and Ray
When Lanie and Ray celebrated their marriage in a spring garden wedding, they did so with one very special family member present – their baby boy. Originally planning a Winter celebration, the date moved when the couple found out about their sweet baby boy.  Photographer Peter Linh Photography captured the day, which the couple held at Meadowbank Receptions.
Lanie tells, "I honestly do not remember life before meeting my now husband Ray. We were so incredibly lucky to have had found one another early in our lives as we started dating at the age of 14 in high school. It is kind of embarrassing looking back because we looked so young and thought we knew it all. We would not have guessed it then that someday we would be married. Being able to have grown up, witnessed the lows and highs, and supported one another through the years really solidified our relationship, we are who we are today because of one another. We married as best friends."
Lanie chose a strapless lace gown by Stellini with metallic shoes from Jo Mercer.
Lanie and Ray met before the ceremony for a "first look".
Of their photographer, Lanie tells, "We met Peter and Linh who were suggested to us by a dear friend and instantly we felt at ease and clicked. Much so in fact we've made a couple of lovely friends. Our priorities were to have photos that looked natural, Ray and I are very awkward and silly in front of the camera together so feeling comfortable played a big part in the process. It was simply like being with friends so we never felt that stress of the day or the need to act in front of the camera. We also scored our wedding cake vendor as Linh is a pastry chef and an amazing one at that."
For the processional, Lanie remembers, "I chose 'Banana Pancakes' Jack Johnson. We both were so fond of his albums, we would sing this song in particular in the car together whenever it came on so it naturally was our first choice. It was a lovely song to walk down the aisle to as it set the mood we wanted to portray and that was laid back and cheerful."
The couple was married at, "Our ceremony and reception both took place at Meadowbank Reception in Campbellfield, Melbourne. We were so happy when we came across this little hidden treasure of a venue that gave us the garden/country backdrop without having to travel too far out of Melbourne. The staff were so accommodating and until this day, guests still rave about the quality and abundance of food."
"Being a florist, I was able to make my own bouquet and that was very special to me as I was able to choose all my favourite flowers and it had such an amazing smell. "
"Anything we could do, we did it. From all the stationery, to the decorating and styling, we wanted to do it all! Of course it does take a little more effort but we felt proud of what we had accomplished and it just made the day that bit more personalised."
"The moon backdrop for our guest photos was probably the largest DIY project and was constructed from scratch by my clever father in law and painted by one of my best friends who is an incredibly talented illustrator, Jenika. It was inspired from a photo I used to admire of my grandmother and grandfather that they took on one of their dates to Luna Park. Guests had a lovely time taking photos on it, it definitely was one of the highlights of the day for myself."
Linh from Peter Linh Photography made the wedding cakes! Lanie telling, "We loved having not just one but five different flavoured wedding cakes. Yes, you can never have too much cake!"
For their first dance, Lanie remembers, "We both were dreading our first dance! To have all that attention on us, and it seems to be such an intimate and romantic moment when a bride and groom have that first dance! We knew that if we were to dance to a slow, sweet song, we would feel paranoid with how we were dancing so when I suggested 'The Most Beautiful Girl in the Room' by Flight of the Conchords, Ray laughed and couldn't agree more. When that moment took place, we sung it to one another, danced slow with occasional moments of silly dancing and laughed our way through it. Nothing felt more true to who we are and it ended up being that romantic and intimate moment we didn't think would happen."
Lanie remembers "There was a moment of distress (more like absolute horror) when the hot jam donut truck we had booked several months prior to the date cancelled on the day in a text message (it was our little sweet send-off gift to guests). I immediately called my brother in law Troy who was also Ray's best man and told him the situation and he was able to deal with it and organise a replacement. It is moments like this where you realise that you are just so lucky to be marrying into a family that love you as much as your own. I was very blessed!"
Huy Le captured the day on film, Lanie remarking "We were undecided with using a videographer for the day, however a family friend with a natural brilliance in the area, Huy came to the rescue and offered to film the day. Looking back at the footage now, while some may say it is not necessary, I feel that the day just goes by so quickly and little details and moments go unnoticed. It's so wonderful to go back and reminisce. I cannot wait to show Samuel one day when he is older as he was only six months old at the time."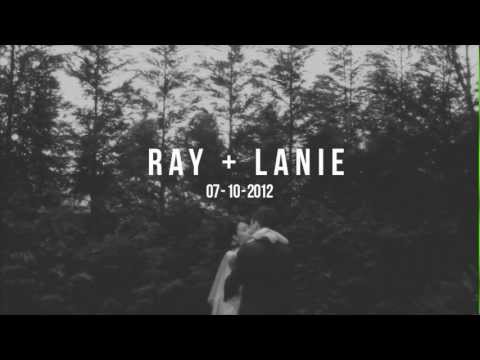 Congratulations on your marriage Lanie and Ray. Thank you to Peter Linh Photography for the images.