Photo by Natasja Kremers
Meryll & Gen
Something completely different for an engagement shoot today – a pre wedding garden party! Meryll and Gen won a competition to celebrate their bridal party and the friendships they have formed, so together with Daisy & The Duke and Gathering Events, Meryll and Gen headed to Bundaleer Gardens for an afternoon of drinks, games and a celebration of the most special people in their lives.
Their prize included an afternoon of fun with the vintage caravan bar, sunshine, lawn games and of course a photo shoot with Daisy & The Duke. Not only was it a wonderful chance for the bride and groom to celebrate with those they love, but each bridal party member had a chance to get to know the photographer and break down those nerves for when the wedding rolls around!
Gathering Events set up their vintage caravan in the gardens and served cold drinks and delicious food all afternoon.
On how they met, Meryll tells, "Gen and I met at QUT library. He was looking for a spare seat which happen to be beside me. He spoke in Filipino which I recognised and so the conversation started and the rest was history… He said it was love at first sight."
Of the proposal, Meryll remembers it. "It was a Saturday and we were at the Gold Coast. We did the Sky Climb and after that Gen said to me that he wanted to go walking at the beach (he really loves water and sea breeze) so I said yes. But he also promised me that we are going to go shopping at Harbour Town (yes I am a shopaholic) so I said to him let's walk for about 5 mins and go to Harbour Town.
Five minutes have passed and he knelt down on his knees and I said to him "Honey what are you trying to do? We need to hurry because I want to shop" so he tied his shoe lace after that and requested another 5 minutes. Because I know that he really loves the sea breeze I said "yeah sure we can stay".
He grabbed a stick and started writing on the sand. I was a little bit annoyed because I thought he was just playing up with me because he didn't want me to shop. So he dropped the stick and stood up and said to me, "I have a question". And I said "Can you ask me in the car because we have to hurry up!" So then he said "Will you marry me?" I responded "Don't play tricks on me, because I want to shop". So then he brought the ring out and I was speechless. And yes he succeeded on putting the ring on me and from stopping me to shop!"
On what she loves about Gen, Meryll tells, "I love how Gen would make you feel that you are special and loved and that you could trust him as he is very faithful."
On what he loves about Meryll, Gen tells, "I love when I tease Meryll and she gives me the most beautiful look. I also love when she stays strong when I am weak."
A last hurrah to Winter on Polka Dot Bride today with this Winter wedding inspiration shoot – complete with real falling snow! White, snowy filled wedding are not something we see a lot of, and yet there is something about the falling snow and glistening white details that is utterly enchanting.
The Western Australian team behind today's shoot – photographer Aubrey Strawberry Photography, bridal designer Denise Wright Bridal, hair & makeup artist Make Me Beautiful Jane, florist Sweet Pea Florist, cake designer Wicked Cake and stylist Circle Of Love Weddings teamed up together a wintery wonderland shoot with touch of vintage style.

Photographer Pamela Wilson notes, "We wanted it to be winter whites with some silver included to give is a sparkle. A log cabin feel with the pine cones, tress, old fire place & candles in the heritage listed building at Yanchep National Park. We choose the old heritage building that is no longer used other than for school camps. We found this room up the top which has hard wood flooring with a fireplace to suit. We styled the area with a white arch draped with white chiffon and white tiffany chairs. The lush white rose petal aisle was lined with some beautiful babies breath, white cherry blossoms and flickering candles.
The overall look and feel was magical – it truly was a white winter wonderland with a touch of vintage elegance. The inspiration behind the shoot comes from us wanting to create something different for Perth. Our wedding season is so quiet during winter and there are so many great venues to use in the winter, the land is green and flourishing, it is cold but there are also so many designers creating amazing wedding dresses and accessories to help with that."
For the flowers, styled by Sweet Pea Florist, Pamela notes, "The flowers created were given a snowy wintery but warm feel too, white whites, greens, berries and silvers with a less traditional shape. Different textures and sizes of flowers were used  with pepper berry foliage for the cascading hand tied look. We added with dusty miller leaves for some silver/grey with peonies, roses, alstromeria, and hydrangeas."
Photo by Posh Photography via Renee and Christopher's Tropical Palm Cove Wedding
I picked the photo above for this Friday Roundup because I love it. Isn't it the best, sitting beside your beloved having a laugh over something? I'm pretty sure it's my favourite place to be.
It is definitely becoming Spring like around these parts, from the weather, to the sparkle of enthusiasm in the office and the gorgeous posts across the Polka blogs, let's dive in and check them out!
Top tips from wedding photographers as we interview Vicki and Jacques of Snowflake Creations
Ever wanted to peek inside the wedding days of your favourites? Share A Glass Of Bubbles With… Caroline Of Nectar & Stone
For a classic pen and ink font, we love this Tuesday Type Bookeyed Martin
Amelia goes Behind the Door with…… All Grown Up Weddings
Let's all dream together of a Paris Honeymoon
I love that this bride and groom met as children in their local park! Renee and Christopher's Tropical Palm Cove Wedding
Rounding up our favourite Honey Wedding Favours
If you want a delicious chocolate fudgey biscuit with a twist, try these Providence Gully Double Choc Pomegranate Delights
Love when a wedding vendor shares their own favourite wedding vendors- Vendor's Favourites – Grain and Co.
Two decades of designer bridal gowns Samantha Wynne 20th Anniversary…. Real Bride, Tabatha
So much to learn! The Importance of Engagement Photographs
Perth couples, the Perth Wedding Upmarket is next weekend! Pop along to University of Western Australia's Winthrop Hall Undercroft to meet some of Perth's best wedding vendors who are all about handcrafting pieces to create a wedding day personal to you. Entry is completely free!
Loving those fun custom temporary metallic tattoos for pre wedding parties or a bit of wedding fun? We have a very special offer just for Polka Dot Bride readers from Annabee! Simply enter the code POLKADOTBRIDE20 upon checkout to receive a 20% discount on your order! Check out their full collection here! This code is valid until September 4th, 2015.
Navarra Venues are hosting a showcase across their venues during September!Starting at Curzon Hall on the 1st, Oatlands House on the 8th and Le Montage on the 22nd, the showcase will will be partnering with Vera Wang Sydney to showcase their beautiful gowns along with seeing the best of the Navarra Venues preferred vendors on the night in themed rooms that will show off the bets in invitations, fashion, transport, photographers and more ! Book your tickets for Curzon Hall here, Oatlands House here and Le Montage here.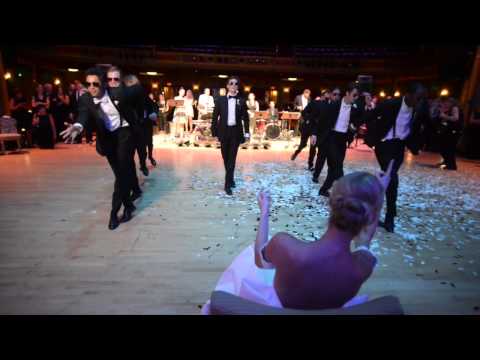 This week's wedding film of the week is a terribly fun one! What happens when a professional dancer gets married? Oh you know what happens, but it's still an amazing video to watch!